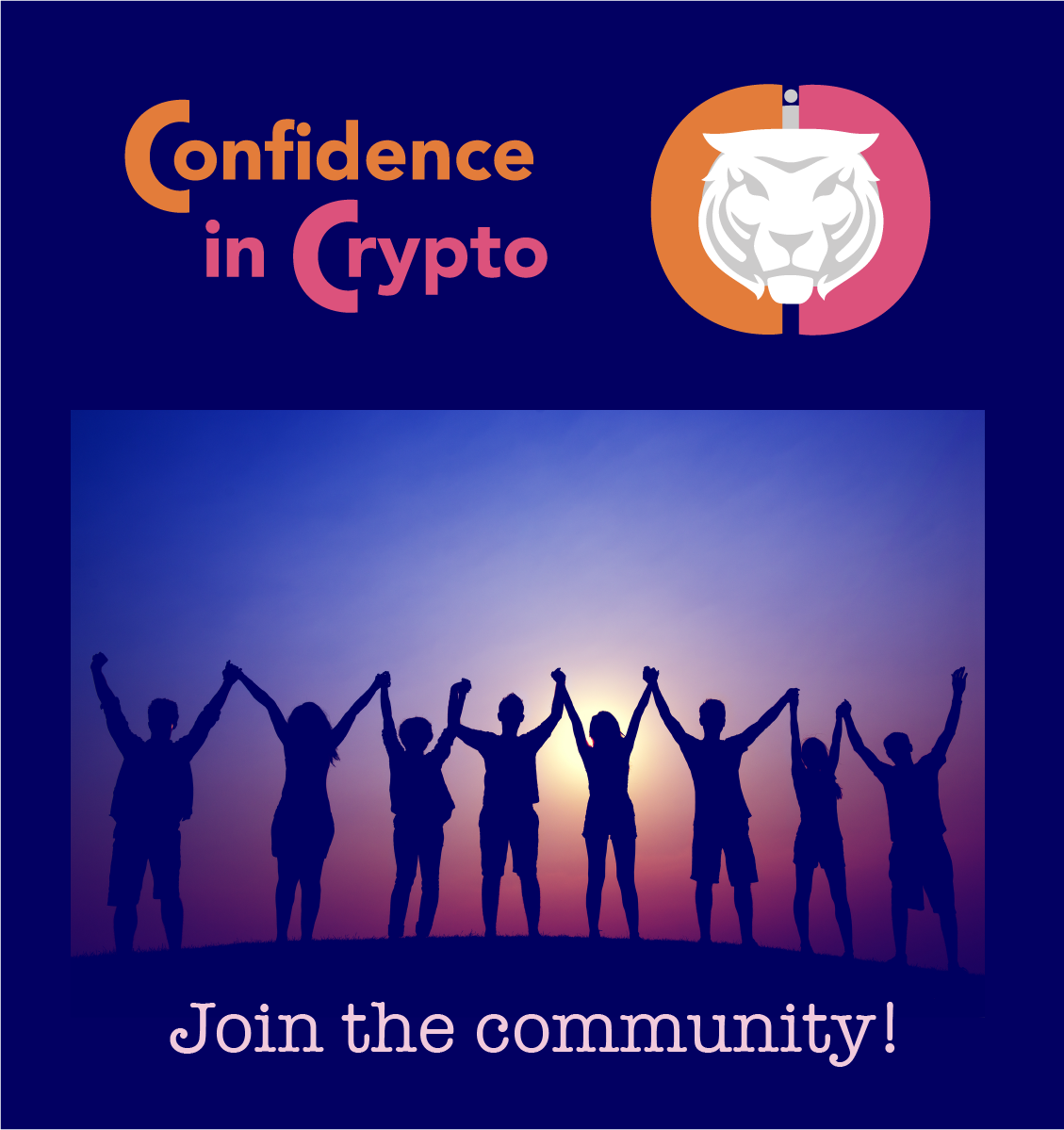 Why join?
We are a diversified group of like-minded individuals with the common goal to learn about how crypto will change our lives through technology and global financial stability. We will meet each week to discuss:
Current Events
Member Spotlight
What is Bitcoin?
What are altcoins?
Open Q&A
What are the benefits?
Collectively, the founding members have invested
10s of thousands of dollars on education
1000s of hours of combined education
Over $1,000 of paid indicators shared in weekly technical analysis
100s of hours vetting crypto educators, analysts, and influencers
Get Your FREE Guide Now
The Ultimate Guide to Confidence in Crypto
In this free Confidence in Crypto guide, we debunk 3 myths that are holding you back from investing in crypto so you can have passive income and a comfortable lifestyle.
Let this guide be your trusted resource, equipping you with the tools and know-how to thrive in the world of cryptocurrencies.
"Kelly helped me understand cryptocurrency. She guided me through all the confusion and gave me confidence to buy my first BTC on an exchange.
How liberating! I am currently growing my portfolio."
— NANCY, mother and investor
Book your FREE CiC Discovery Call
10 Steps to Getting Started in Crypto
Whether you're a seasoned investor seeking to sharpen your expertise or a newcomer eager to embark on this transformative crypto journey, "Confidence in Crypto" is your compass. We understand that the investments and the cryptocurrency space can be intimidating, filled with jargon, and subject to rapid change. That's why we're here to demystify the complexities, offer reliable guidance, and empower you to make informed decisions that align with your financial goals.
At "Confidence in Crypto," we're more than just a website; we're your partner in the investment and crypto journey. Join us as we explore the limitless possibilities of cryptocurrencies and blockchain technology, share valuable insights, and foster a community of like-minded individuals passionate about building their financial future in the decentralized world. Your journey towards confidence in crypto starts here.
Coming soon...
A Bitcoin Guide for Newbies
This eBook is full of facts - straight to the point and easy to read. It is for the beginner yearning to know the what, why, how and all that good stuff. I know its value and I want you to learn correct info and not have to sift through all the BS out there.
11-PAGE PDF — DISCOVER ALL THE ANSWERS TO THE BASICS OF BITCOIN — INCLUDES BONUS MATERIALS
Crypto Strategy Session One-Time Session
60 min (offered to members only)
Do you need one on one time to discuss your own personal questions?
ON THE PHONE OR OVER ZOOM
ASK ANY QUESTIONS ABOUT BITCOIN, TAXES AND YOUR PORTFOLIO
A RECORDING WILL BE EMAILED TO YOU AFTER
Confidence in Crypto Membership with Grow & Flow Meeting
FREE TRIAL membership until the end of the year!
Our weekly meetups are 20-30 minutes with all the members on a zoom call. We log in and everyone is welcome to chat or comment in our community
Join our growing community. We are moms, dads, professionals, students, grandmothers, uncles, mentors and people with a curiosity for Bitcoin and cryptocurrency. We are hungry and eager and we share and learn and help one another because we love this...we love where it's going and we believe in it. We know it will change our future and create generational wealth for our families. Check it out! It's free, why not? I know after a few meetups you will fully understand what is so exciting about Bitcoin and the future of digital gold!
ZOOM MEETING EVERY TWO WEEKS — LEARN FROM OUR COMMUNITY ~ BECOME CONFIDENT IN CRYPTO AND WALK AWAY WITH A CLEAR VISION
Thank You for stopping by and we are glad you are here!
Our commitment is to empower you with the confidence to make informed decisions in this exciting space.
Let's build your Confidence in Crypto!
Still wondering what to do...?